Video of Final Rehearsal 27 January 2016 for
a Briefing to Manhattan / Nassau / Suffolk Dentists
delivered on 28 January 2016 at Papazzio in Bayside NY.
TRANSCRIPT
Hi, Tom Jacoby here at NumberOneOnTheList.com. I do professional websites. I offer SEO help, and I do press releases. The idea is to build up your Internet presence, make yourself well-known, well-thought of, and show everybody what it is that you do on the Internet.
So, today, I want to talk to you about DrugFreeWorld.org. Drug Free World is a drug education program aimed at educating kids the truth about drugs before they get started. So this isn't recovering people after they've already made the horrendous decision to take drugs. This is catching people before they decide to take drugs so that if it's offered to them or if it's like, "Yeah, we're just having fun here," they have some concept of the consequences of just what exactly drugs are all about. So DrugFreeWorld.org, good organization.
Also, it's noncontroversial. It's not like there's somebody else out there going, "Well, people should take more drugs." That's not occurring. This is not a controversial thing. It's simply social betterment, does not know what to look at. All right. So like everybody other nonprofit, Drug Free org needs donations and support from the public in order to keep doing the good work that they do to print their booklets about drugs, to do their tours to schools, to talk about drugs, etc, etc, etc. They need funds to make this happen so that there are good things that you can do to support Drug Free World.
Now, so you get involved. You do some good things for Drug Free World, which is a good idea. Dr. Ben Fialkoff, BaysideDentist.com, has done a tremendous amount of work for DrugFreeWorld.org, and you can talk to him about that and some of the benefits and some of the good experiences that he's had, but here's the point. So you do some work for Drug Free World. You support them in some way. Do a press release. Tell people, let the public know good things that you do. This has two benefits. One, people Google your name, the name of your practice, and they see your press release. They see this good news regarding the good works that you do. That's one benefit. The other benefit is you set a tremendously great example. People do look at what other businesses are doing and are inspired by that, like Toys for Tots, catches on like wildfire. People see other businesses collecting Toys for Tots for the Marine Corps around Christmas time. "Oh, yeah, yeah, what a good thing to do." And they get involved.
DrugFreeWorld.org works the same way. You get involved. Other people look at that and go, "Oh, yeah, yeah, that's something that ought to be done. I should get behind that myself." So, it's not just that you're promoting yourself and the good works that you do, the other benefit is you're setting a good example, which is more powerful than I realized. Actually setting a good example is huge. People look at your practice. Perhaps another dentist looks at your practice, and they feel that what you do, what you're doing to promote your practice, since your practice is similar to what they do, they might get some good ideas from looking at what you're doing.
So DrugFreeWorld.org is like, "Well, Dr. Joe is doing it. I'm similar to Dr. Joe. I should do this." It's social proof. It's people looking at what you're doing going, "Yeah, okay. This is what I should do." So, let me encourage you now, DrugFreeWorld.org, great organization if you want to get behind a good charitable organization, and tell people that it's a great way to do that. Thank you.
END TRANSCRIPT
The Foundation for a Drug-Free World is a nonprofit corporation for the public benefit. Drug Free World provides factual information about drugs which enable people to make informed decisions.
Drug Free World
Drug Free World New York
Take care, be well, have fun,
Tom Jacoby
Number One On The List
A New York Internet Marketing Solutions Corporation
Get found, Get business
phone: 917-338-9586
9 AM – 5 PM Eastern Standard Mon – Fri
voicemail on weekends and holidays
fax: 917-210-0142
Number One On The List on Facebook
Number One On The List on Google Plus
Number One On The List on YouTube
Number One On The List on Alignable
Member of the New Hyde Park Chamber Of Commerce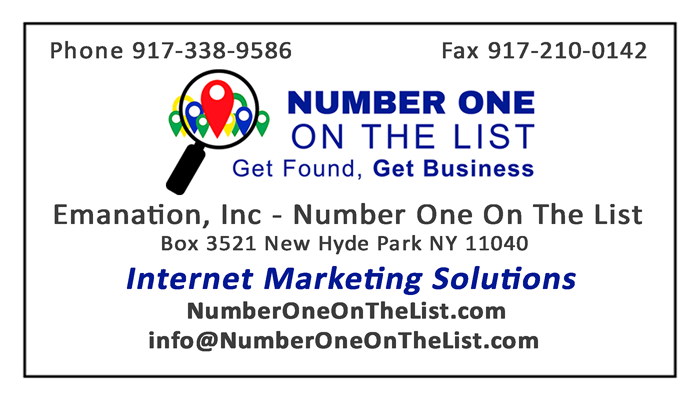 (Please Pardon Our Appearance, This Website Is Under Construction Summer 2017)
HOME | WEB MARKETING | SEO BLOG | CONTACT