Greater New Hyde Park Chamber Of Commerce
18 Feb 2016 Meeting at Gino's in New Hyde Park
TRANSCRIPT
Tom: All right. Tom Jacoby, Number One On The List. What I do is search engine optimization. A couple of years ago, I had to tell everybody what search engine optimization was. Now most people know, all right? But there's more, okay? Search engine optimization used to be just keywords. So, you're looking for some place to eat. You go, "Italian restaurant, New Hyde Park." And Gino's pops up, okay? That was the whole idea. You're looking for a keyword, you check it out.
Now everybody's on the internet on their smart phones. You get a referral, somebody says, "Oh, great Italian restaurant. It's Gino's in New Hyde Park." So this time, instead of looking for an Italian restaurant, you search, "Gino's." Or you basically look in to this referral that you just got. "You know, best mechanic in the world is Joe at Joe's Garage," so you check Joe's Garage.
See? So instead of searching for the product or the service, you're searching for the actual individual. You're searching for reputation, okay? If you search for me, you find four pages of stuff that I wrote, so it comes up pretty good. What I'm pushing, what I'm recommending right now is press releases. And the reason I'm recommending press…you know, I'm going to put this down. The reason I'm recommending press releases…
Jerry: Turn it off.
Tom: How do I do that?
Jerry: The switch. The switch on the microphone.
Tom: I'm using all of my time here.
Woman: No…
Tom: We got it? Okay, thank you.
The reason you want to do a press release is to make your good works well-known. Here's an example. So you get involved in Toys for Tots. You're collecting toys, you're giving them to the Marine Corps. It's all a good thing. If you do a press release, one, you're promoting your own business in a different way. You're promoting that you're actively involved in Toys for Tots.
Now, the kicker is that you're also setting an incredible example. This happens all the time after Thanksgiving, as people notice one place is a pick-up for Toys for Tots. So they go, "You know, we ought to get on board with this." They get involved and now, at their place, they're collecting for Toys for Tots.
So, see, it's a two-part, it's a win-win. You're letting people know about those good works that you do because that whole thing with, "Self-praise stinks," and, "Don't toot your own horn," it's nonsense. You've got to tell people, otherwise how will they know? So letting people know the good works you do is a good thing. Building a reputation that way online is also a good thing, all right? And you're promoting Toys for Tots.
Take care, be well, have fun,
Tom Jacoby
Number One On The List
A New York Internet Marketing Solutions Corporation
Get found, Get business
phone: 917-338-9586
9 AM – 5 PM Eastern Standard Mon – Fri
voicemail on weekends and holidays
fax: 917-210-0142
Number One On The List on Facebook
Number One On The List on Google Plus
Number One On The List on YouTube
Number One On The List on Alignable
Member of the New Hyde Park Chamber Of Commerce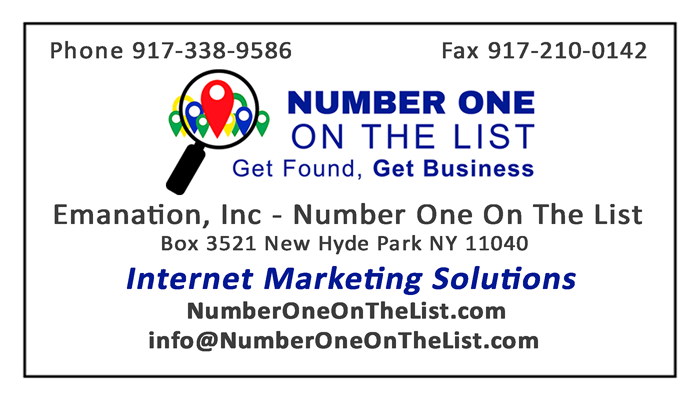 (Please Pardon Our Appearance, This Website Is Under Construction Summer 2017)
HOME | WEB MARKETING | SEO BLOG | CONTACT