SEO is Search Engine Optimization.
There's Internal SEO (also called "OnPage" SEO) on your website itself. Usually (not always), your website designer has worked with you on this type of search engine optimization.
NumberOneOnTheList.com specializes in external SEO (AKA off-page SEO, link building search engine optimization). External SEO uses primarily the quality of the websites that link to your site and secondarily the number of relevant links to build up your website's popularity.
Search engine optimization is about getting quality links for customers. Quality backlinks are the only way to obtain stable rankings for valuable keywords, and NumberOneOnTheList.com does the work in house.
Link building SEO is external SEO. NumberOneOnTheList.com gets top rated links coming to your website. Search engines detect this and your position in search results improves.
Why link building?
– Link building SEO brings you a higher Return On Investment than comparable forms of promotion such as newspapers or the phone book.
– External SEO routinely leads to increased sales of your product or service.
– Backlinking SEO is among the most cost-effective ways of marketing.
– Backlinks can increase the number of visitors who find service or product using a search engine.
– External SEO on a properly designed and optimized site should create a stable organic position in search results.
– Link building SEO gives your brand a higher internet profile.
NumberOneOnTheList.com has various programs of external search engine optimization based on keyword phrases, locations and zip codes, plus your own original promotional material.
Your external SEO campaign goes like this:
(1) Select your keyword phrases. A keyword phrase is a long or short description of what it is that you do from the viewpoint of someone looking for you on the internet. Your home page title should contain your main keyword phrase, your homepage content should also contain your both exact keyword phrases and supporting phrases used appropriately and naturally.
Examples of Keyword Phrases:
external search engine optimization
external SEO
off-page search engine optimization
off-page SEO
backlinking search engine optimization
backlinking SEO
What are the keyword phrases for your business?
(2) Locations and zip codes – these could be around your physical location or where your customers are located or target area that you are looking to reach.
Examples of Locations:
New Hyde Park NY 11040
Lake Success 11042
Garden City NY 11530
Mineola NY 11501
Floral Park NY 11001
Glen Oaks NY 11004
(3) Original Content – Your own descriptive and unique information, your original content about yourself and your company. This is a sort of long press release and includes what makes your business special and unique, what is different about your company compared to other similar companies, some biographical info about you, some history of your business, what benefits might reasonably be expected for a client – you get the idea.
The exact keyword phrases that you select and supporting phrases should be used appropriately and naturally in the text on your webpages.
NumberOneOnTheList.com will get high authority quality links from articles on the top web 2.0 sites linking to your website.
All of the above factors (keywords, locations, unique content, backlinks) dovetail together and you have an internet marketing program that is guaranteed to get you results. NumberOneOnTheList.com's program will improve your website's position on all of the Search Engines – Google, Bing, etc.
NumberOneOnTheList.com can put you in front of potential clients by making your business prominent in search results.
You need to have a high profile online because your potential clients are using search engines. The internet is the most frequently used marketing platform in the world. People who are right now searching for your services are some of the hottest leads possible.
We can help.
Let's discuss.
Take care, be well, have fun,
Tom Jacoby
Number One On The List
A New York Internet Marketing Solutions Corporation
Get found, Get business
phone: 917-338-9586
9 AM – 5 PM Eastern Standard Mon – Fri
voicemail on weekends and holidays
fax: 917-210-0142
Number One On The List on Facebook
Number One On The List on Google Plus
Number One On The List on YouTube
Number One On The List on Alignable
Member of the New Hyde Park Chamber Of Commerce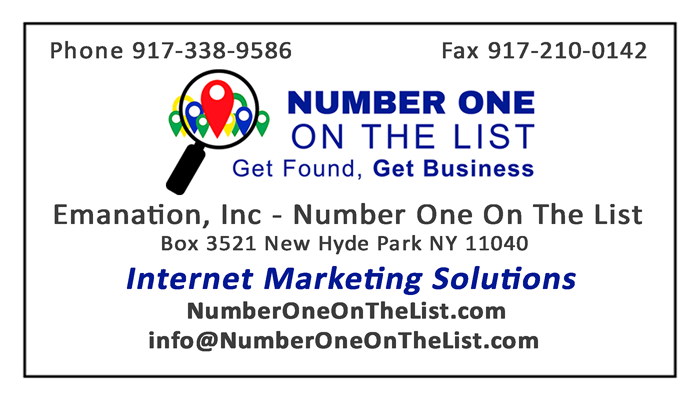 (Please Pardon Our Appearance, This Website Is Under Construction Summer 2017)
HOME | WEB MARKETING | SEO BLOG | CONTACT