Google Partners Event – Images, Videos
on Smartphones – NumberOneOnTheList
TRANSCRIPT
…if you want to look at who you're communicating to. And in the 21st century the people you're talking to are accessing the internet on their smartphones. Hence, the beauty of using pictures and video. Pictures and video communicate much better to somebody smartphone than 15 paragraphs of text. Alright? In 2012, sixty percent of restaurant reservations, same day restaurant reservations, were made from smartphones. That's 2012. By now, that statistic has not gone down, it's gone up. Everybody looks for everything on the internet on their smartphone.
– Tom Jacoby, NumberOneOnTheList.com Free Google Partners Event on 7 July 14 at the Keats Agency.
Interested in promoting and marketing your business with images and YouTube videos?
Let's discuss.
Take care, be well, have fun,
Tom Jacoby
Number One On The List
A New York Internet Marketing Solutions Corporation
Get found, Get business
phone: 917-338-9586
9 AM – 5 PM Eastern Standard Mon – Fri
voicemail on weekends and holidays
fax: 917-210-0142
Number One On The List on Facebook
Number One On The List on Google Plus
Number One On The List on YouTube
Number One On The List on Alignable
Member of the New Hyde Park Chamber Of Commerce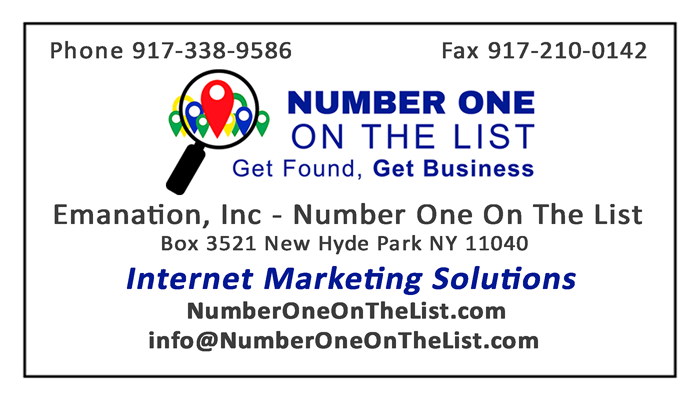 (Please Pardon Our Appearance, This Website Is Under Construction Summer 2017)
HOME | WEB MARKETING | SEO BLOG | CONTACT