Google Partners Event –
Where to put Reviews – NumberOneOnTheList
TRANSCRIPT
Mildred Tassone: Hi, I'm sorry, if you'd like to introduce yourself we can get it to . . .
Bob Hopp: I have the Hopp Companies, and I have a question. In the video he talked about the importance of references and not duplicating references as part of the website.
Tom Jacoby: Right.
Bob Hopp: On my website I have a testimonial section, with references.
Tom Jacoby: Those are all good.
Bob Hopp: But would it be good to put those somewhere else on the Internet?
Tom Jacoby: No, don't move them.
Mildred Tassone: That's what he said.
Tom Jacoby: Leave them right where they are. If you want to solicit future testimonials, your Google+ page is a great place for them. The reason for that is when people find you on the map, when you come up on the Google Local places, there you are on the map listing and now it'll say 15 reviews, 20 reviews.
So if they're posting their reviews on Google+, it'll count on your map listing. It'll be one of the first things people see. It'll help drive traffic to you, right? If you just post them on your website, well people already have to know you to be at your website.
Bob Hopp: Yeah, exactly.
Tom Jacoby: Right.
Bob Hopp: Or I can just take the testimonials off the website and put them somewhere else.
Tom Jacoby: No.
Mildred Tassone: No, no, that's what he said not to do, then you're just screwing everything up.
Tom Jacoby: You don't want to take it off, leave it right where it is.
Mildred Tassone: Take the next one.
Tom Jacoby: That's right.
Mildred Tassone: Take the next one, either go to Facebook or Yelp, or Twitter, go to the next one. Do that. Get it all set up, and then pick the next one. Just work down the list, is what I really think.
Tom Jacoby: I like Google+.
Mildred Tassone: Yeah, we'll see, that to me is a given, Facebook and Google Plus.
Are you getting reviews where they will do you the most good?
Let's discuss.
Take care, be well, have fun,
Tom Jacoby
Number One On The List
A New York Internet Marketing Solutions Corporation
Get found, Get business
phone: 917-338-9586
9 AM – 5 PM Eastern Standard Mon – Fri
voicemail on weekends and holidays
fax: 917-210-0142
Number One On The List on Facebook
Number One On The List on Google Plus
Number One On The List on YouTube
Number One On The List on Alignable
Member of the New Hyde Park Chamber Of Commerce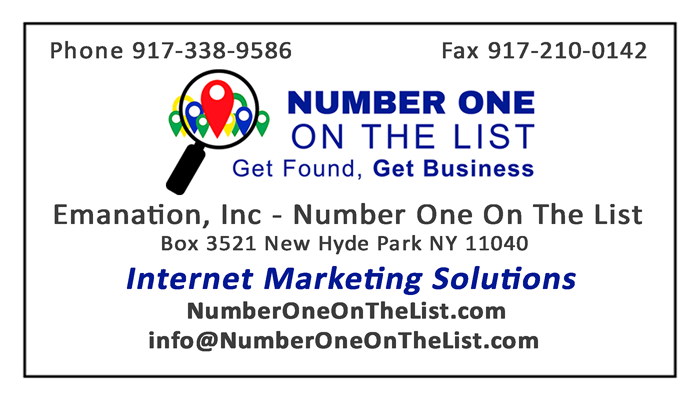 (Please Pardon Our Appearance, This Website Is Under Construction Summer 2017)
HOME | WEB MARKETING | SEO BLOG | CONTACT