Domain Names for SEO – Tom SEO tip
NumberOneOnTheList 917-338-9586
TRANSCRIPT
Hi. Tom Jacoby here with Tom's tip for today. Alright now, a while back, Matt Cutts – Google, he's the head of the web spam team – he announced that exact match domains, domains that precisely fit to search terms that you want to be found for, are no good.
Alright now, that's true and it isn't. It's no good to have no content and simply have a domain name to carry – and expect that to carry you through search, alright.
Here's an example. Let's say you're a steakhouse and you're in Midtown. So you want to come up on Google search results page one if somebody searches for steakhouse Midtown. So you get that URL, you get steakhouseMidtown, okay? But your content is junk. There's nothing there, you know, there's a scan of a menu as a downloadable PDF. There's nothing else there. That is crap. That's not going to get you ranked, okay.
Now. Here's the other case. This is where you've got rich content. You've got directions. You can make a reservation online, okay. Want to place a catering order, look at our catering menu. Want to see what the specials are today? Have a look. You see what I mean?
Content. You're bringing some value to the table. Because, after all, this is what Google is aspiring to do, is to create a positive user experience.
If you want to bother to look something up online, you should get information, not just a one-off, you know. You should actually walk away with the information you need and want. Alright, so that's Tom's tip for today. The exact match domain – yeah, don't do it and expect it to carry you all by itself. But, if you going to bother to put the content there to back that up, it's not a bad strategy at all, okay? You want to discuss this? Give me a shout, 917-338-9586. Or come and visit. NumberOneOnTheList.com. Thanks.
Take care, be well, have fun,
Tom Jacoby
Number One On The List
A New York Internet Marketing Solutions Corporation
Get found, Get business
phone: 917-338-9586
9 AM – 5 PM Eastern Standard Mon – Fri
voicemail on weekends and holidays
fax: 917-210-0142
Number One On The List on Facebook
Number One On The List on Google Plus
Number One On The List on YouTube
Number One On The List on Alignable
Member of the New Hyde Park Chamber Of Commerce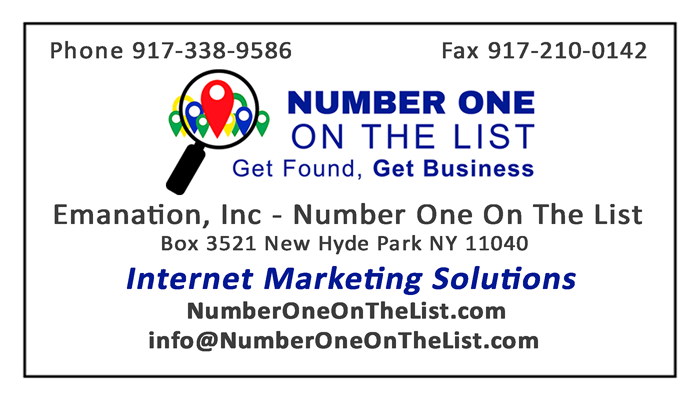 (Please Pardon Our Appearance, This Website Is Under Construction Summer 2017)
HOME | WEB MARKETING | SEO BLOG | CONTACT